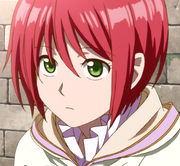 The main female protagonist of the story is born with rare red hair and is a skilled herbalist. She escapes from the kingdom of Tanbarun after its prince orders her to become his concubine.
Independent and persistent, she meets Zen and befriends him after tending to his wounds. In Clarines, she is accepted as a palace pharmacist and trains under Garack with Ryu.
Shirayuki has demonstrated her abilities as a pharmacist in various situations, including identifying and controlling disease outbreaks in Raxd and Lyrias.
She has a close relationship with Zen, and falls in love with him over the course of the story despite opposition due to their difference in social status. She moves into the east wing of Wistal Castle in chapter 49, and is later reassigned as a pharmacist to Lyrias in chapter 53.
Ad blocker interference detected!
Wikia is a free-to-use site that makes money from advertising. We have a modified experience for viewers using ad blockers

Wikia is not accessible if you've made further modifications. Remove the custom ad blocker rule(s) and the page will load as expected.