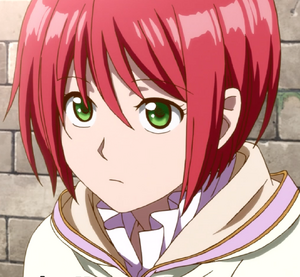 Shirayuki (白雪
Shirayuki
  S S S?
) is the main female protagonist of the anime "Snow White with the Red Hair."  
Appearance
Edit
Shirayuki is a fair young girl with green eyes and bright, apple-red hair.  In the first episode Shirayuki has long hair tied back with a decorative ribbon, but after Prince Raj pursued her, she cut it to it's current style.
Ad blocker interference detected!
Wikia is a free-to-use site that makes money from advertising. We have a modified experience for viewers using ad blockers

Wikia is not accessible if you've made further modifications. Remove the custom ad blocker rule(s) and the page will load as expected.